VINNIE'S HEAD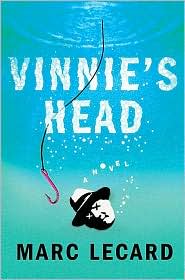 Johnnie LoDuco isn't the sharpest knife in the drawer but he does have dumb luck on his side. After fishing best friend Vinnie's head out of a river near Long Island, Johnnie finds himself in a real pinch. Already on the lam from the cops for a convenience store heist he didn't commit, he now has to decide what to do with his buddies disembodied body part.
The head is the driving force behind everything else that happens in the story. Johnnie carries the head around, locks it in a freezer, even stuffs it in a carrying cooler. And death follows the head. Gangsters, a beautiful fem fatale named Jennifer Smeals, dirty cops, and a pretty young thing that Johnnie falls for named Patrice. On top of this, Johnnie has to try and avoid a bounty hunter named Stosh who's dedication to his profession astonishes both character and reader.
But why is everyone interested in the head? Especially Jennifer Smeals and a local thug named Malatesta? Close examination of it by Johnnie and Patrice reveal nothing except noxious odors. But Paraguay, smut books, computer programs and deadly folk all play a part in what lay ahead for Vinnie's head.
There's a lot of dry wit (perhaps too dry) in author Marc Lecard's debut comedy crime-noir novel but with an ending plot that is — unfortunately — over-the-top. Death and redemption go hand-in-hand as Johnnie discovers all of the cons within cons that are designed to divest him not only of money, but probably his life. The overly-complicated ending plot wrap-ups didn't fit well with the dumbed-down LoDuco (the story is told in first person via Johnnie) whom most readers will probably sympathize with and get angry at for not seeing what's right under his nose.
That said, the story is a breezy read (up until the end) and has some chuckle moments but nothing that'll cause serious belly laughs.
A fun read that most readers should be able to finish in one or two sittings.